Quick Links

The Potts Story
The Project
Make a Donation
The Memorial
The Berkshire Yeomanry
The Victoria Cross
The Great War
Reading
Our Supporters and Sponsors
The Potts VC Trust
Registered Charity 1147047

c/o Richard Bennett
69 Baker St
Reading
RG1 7XY

Click Here for information on our governance and supporters


Patrons:


The Hon Mrs Bayliss CVO JP,

Chris Tarrant OBE

Michael Naxton - curator of Lord Ashcroft's VC collection



Officers

Chairman
Richard Bennett
69 Baker St
Reading RG1 7XY
tel (07802 763289)

Secretary Chris Andrews
378 Wokingham Road
Earley RG6 7HX


Brenda Tait
36 Church End Road
Tilehurst RG30 4UP





Sponsors


Haslams Estate Agents - a long standing business in Reading became our Major Sponsor in 2013



Facebook



Click here for up-to-date information on events and activities



Contact us

NEWS



P0001 updated 20/01/2017
.
Welcome to the Memorial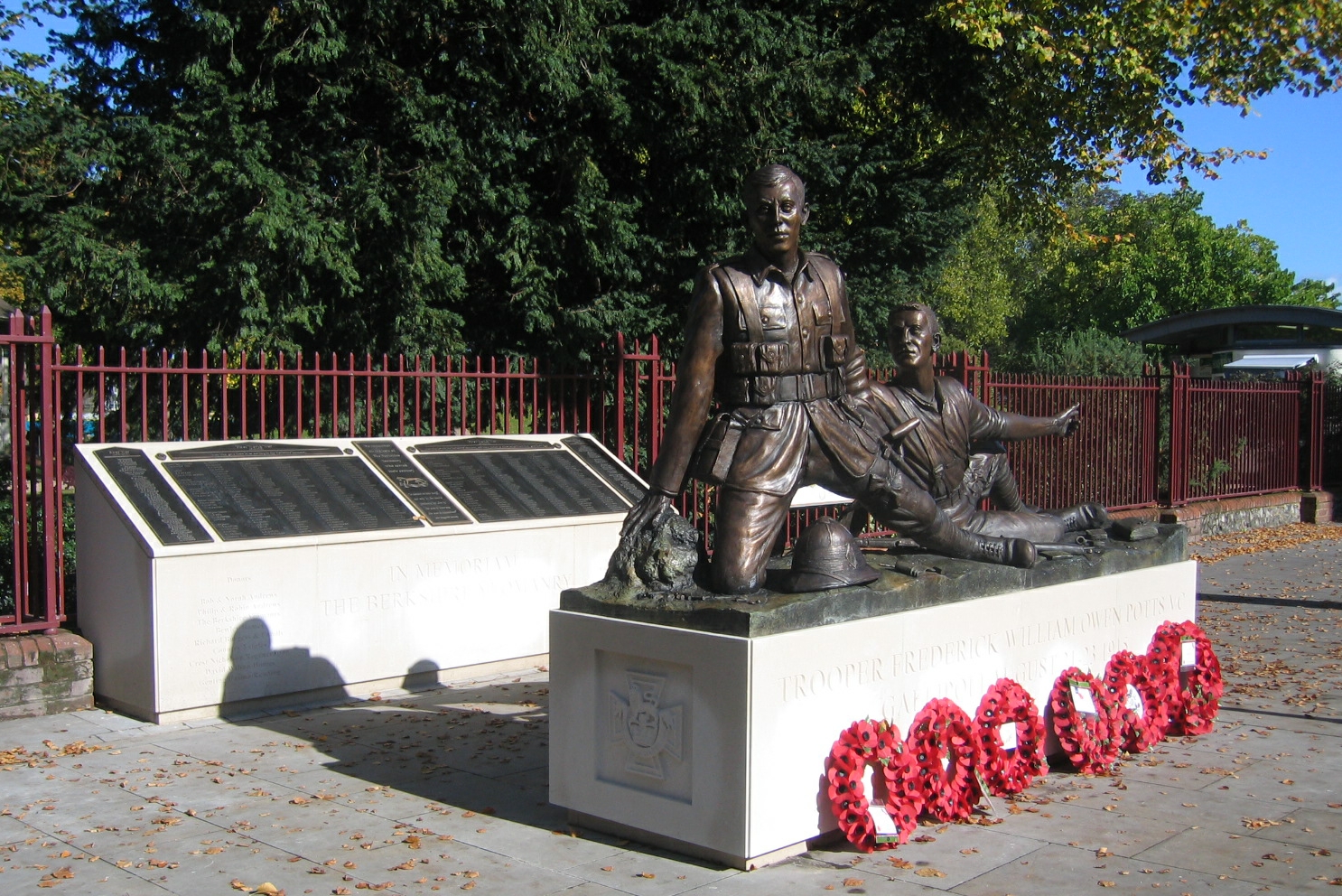 The memorial in its place outside the Crown Courts in Reading and showing the memorial to the men of the Berkshire Yeomanry who died in the Boer War and the two World Wars.
Frederick Owen Potts is Reading's only Victoria Cross holder and was virtually unknown in the town due mainly to his own modesty. Fred died in 1943 and many people in Reading believed the time was long overdue to recognise his bravery with a suitable memorial in a town centre location.
The Trooper Potts Memorial Trust therefore was set up to raise the necessary funds and commission a suitable memorial. On this website you can read his story and find out about the appeal to raise the funds necessary to commemorate a very brave and modest man.
The project to properly commemorate Fred's bravery was initiated after a broadcast on BBC Radio Berkshire by Graham McKechnie and Jon Cooksey. You can hear this broadcast by clicking
HERE
As well as commemorating Fred Potts we are also mindful of the sacrifices of the many men of the Berkshire Yeomanry who gave their lives, both in the battle for Scimitar Hill and throughout World War One. Many of these lie in unmarked graves in Gallipoli. What is so encouraging is ther attitude of the people of Turkey today, who give honour and comfort to all the combattants of that dreadful campaign.
Update Jan 2017
The memorial was unveiled in October last year and was adopted in Jan 2016 by Reading Borough Council for future maintenance. We have had some very pleasing responses to the resultant memorial and we now have a special page to link you to some of the items that have been posted on the web;
CLICK HERE
Further details on :
our Facebook page
Roll of Honour
426 men of The Berkshire Yeomanry lost their lives in service of their country in the wars of the 20th Century, 353 in The First World War of which 74 were at Gallipoli. Their names have been placed on the
Roll of Honour
that is part of the memorial. If you would like to consider sponsoring another name, perhaps a family name, that of a friend or colleague or a name that intrigues you, we seek donations of a minimum of £35 to adopt a name. The money will help with future maintenance.
Lieutenant W E G Niven, the father of the late actor David Niven, served in the Berkshire Yeomanry and lost his life at Gallipoli, he is commemorated. His grandsons in the United States have supported our appeal.
Adopters receive a certificate of thanks and also details of the man; where they came from, any battles they fought in, their last campaign and where they are buried /recorded on a Roll of Honour in a foreign field.
Education
Since 2012 the Trust has worked with Reading College who have assisted us to deliver educational outreach events to local schools, Primary (usually mornings) and Secondary (from 10 minutes to a hour). We have also delivered presentations to local clubs; Rotary, WI's, History of Reading Society, U3A, Reading Civic Society, Pensioner Groups, Reading Library. If you wish to invite us please contact the Chairman on 0118 959 8350 or e-mail bennettbaker@msn.com.
To support our education work a series of films was commissioned showing the process of producing the memorials; the sculptor at work (
long version
) or (
short version
) , work at the Foundry and the stonemasons (
Click here
). David Callaghan, former director of Hancock & Co, explains the History of The Victoria Cross
click here
. A very accessible summary of the Gallipoli Campaign, the lessons at the time and the consequences which run on today, by Forces TV, can be seen
click here
The Victor
One of our supporters came up with this edition of the boys' comic
The Victor
from 1967. We hope you will enjoy reading it
Click here
The Victor ® © DC Thomson & Co. Ltd. 2014 Used By Kind Permission of DC Thomson & Co. Ltd.
Magnanimity
After the war, the commander of the Turkish Army, Kemal Ataturk, who became President of Turkey, set out these sentiments in his declaration:-
Those Heroes that shed their blood
and lost their lives,
you are now lying in the soil of a
friendly country.
Therefore rest in peace.
There is no difference between the Johnnies
and the Mehmets, to us where they lie side by side
here in this country of ours
You the mothers,
Who sent their sons from far away countries
wipe away your tears.
Your sons are now lying in our bosom
and are in peace
After having lost their lives on this land they have become our sons as well
Ataturk 1934
And we recall the words of President J F Kennedy
A Nation reveals itself, not only by the men it produces; but also by the men it honours, the men it remembers
Click on one of the panels on the left to navigate around the site
Many thanks for your interest.
Follow the NEWS link top left for previous news stories or the FACEBOOK link bottom left for current news and events

Back to top »

2010 - Present ©
Frank Toogood
(Design) and Potts VC Trust (Content)