Quick Links

The Potts Story
The Project
Make a Donation
The Memorial
The Berkshire Yeomanry
The Victoria Cross
The Great War
Reading
Our Supporters and Sponsors
Contact us
NEWS
The Berkshire Yeomanry
History
In WW1
Potts' Comrades
Since WW1
Museum
Roll of Honour
P4830 25/2/2015 .
The Berkshire Yeomanry since WW1
Between the wars
On 7 February 1920, the Regiment was reconstituted in the Territorial Army with HQ still at Reading. Following the experience of the war, it was decided that only the fourteen most senior yeomanry regiments would be retained as horsed cavalry, with the rest being transferred to other roles. As a result, on 22 June 1921, the Regiment was amalgamated with the Royal Buckinghamshire Yeomanry and simultaneously transferred to the Royal Artillery to form 99th (Buckinghamshire and Berkshire) Brigade, RFA with HQ at Aylesbury.
The two yeomanry regiments retained their own identities and badges within the amalgamated unit, with each providing two batteries. The Berkshire Yeomanry formed 395 (Berkshire Yeomanry) Battery at Reading and 396 (Berkshire Yeomanry) Battery at Newbury.
The brigade / regiment underwent a number of redesignations before the outbreak of World War II. In February 1922 it regained its yeomanry title as 99th (Buckinghamshire and Berkshire Yeomanry) Brigade, RFA. Another title change came in June 1924 as the Royal Field Artillery was reamalgamated back into the Royal Artillery and the regiment became 99th (Buckinghamshire and Berkshire Yeomanry) (Army) Field Brigade, RA. The final change came in November 1938 as artillery brigades became regiments, hence 99th (Buckinghamshire and Berkshire Yeomanry) Field Regiment, RA.
By 1939 it became clear that a new European war was likely to break out, and the doubling of the Territorial Army was authorised, with each unit forming a duplicate. The Berkshire and Buckinghamshire Yeomanry were separated on 25 August 1939, with each being reconstituted as field regiments of the Royal Artillery. The Buckinghamshire contingent became 99th (Buckinghamshire Yeomanry) Field Regiment, Royal Artillery and the Berkshire contingent became 145th Field Regiment, Royal Artillery.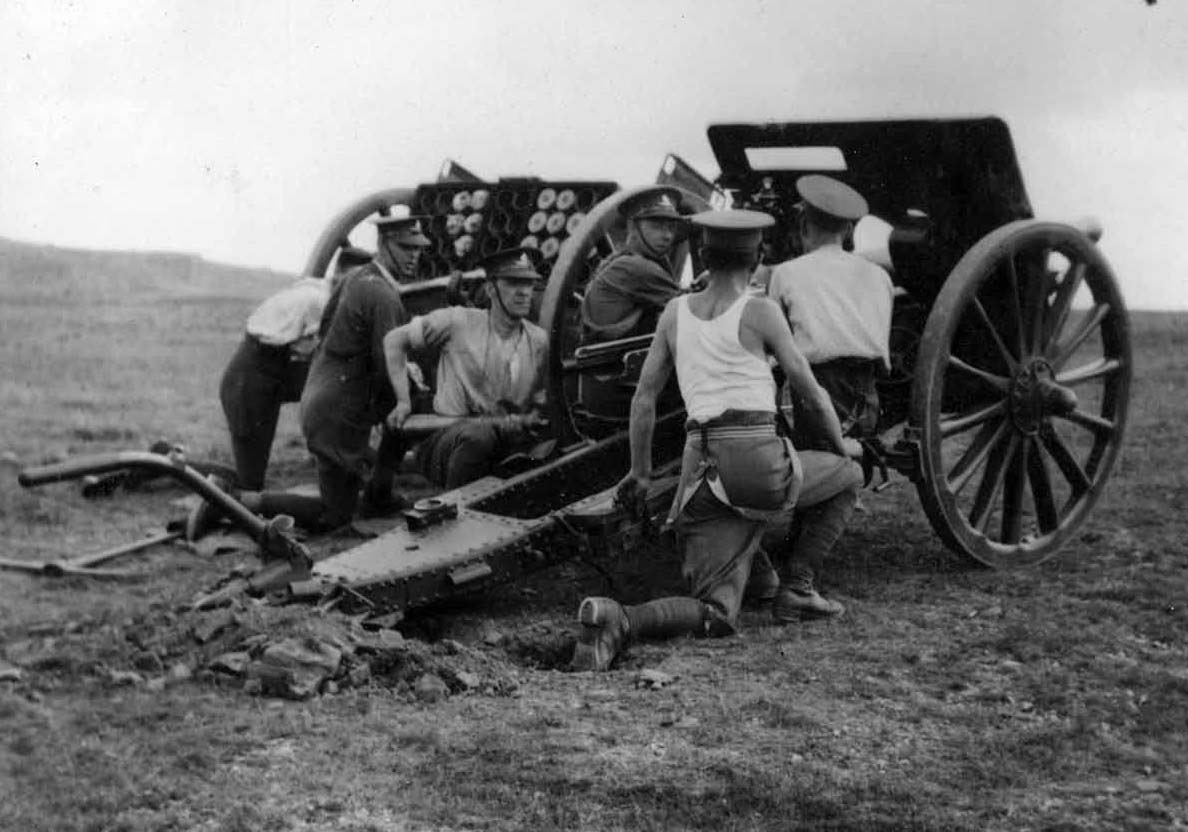 1939 - Carrying out live firing practice on Dartmoor. Gunnery Practice Camp Oakhampton.
Captain Basil Liddel Hart as a journalist visited the regiment and said " I regret to say that a friend at the remote O. P. expressed a somewhat malicious pleasure at my difficulties in reaching it. The 99th (Bucks and Berks Yeomanry) Field Brigade, which I had come to see shooting, is now entirely mechanised, and in consequence its officers, instead of riding up as in former days, had had to leave their reconnaissance cars at the base of the tor and climb it on foot. It was thus apparently a compensation to see a protagonist of mechanisation having a taste of his own medicine."
World War II
With the outbreak of war in September 1939, 145th Field Regiment, RA was mobilised at Newbury and assigned to 61st (South Midland) Infantry Division.[41] Field regiments were organised in 1938 into two 12-gun batteries. The experience of the BEF in France 1940 showed the problem with this organisation: field regiments were intended to support an infantry brigade of three battalions. This could not be managed without severe disruption to the regiment. As a result, field regiments were reorganised into three 8-gun batteries. The third battery (509) was formed in the regiment at Antrim on 14 January 1941. It gained its subtitle, initially as 145th Field Regiment, RA (Buckinghamshire and Berkshire Yeomanry) (TA) from 17 February 1942, amended on 12 May 1942 to 145th Field Regiment, RA (Berkshire Yeomanry) (TA).
The regiment remained in the UK for most of the war, only moving to India in February 1945. There, it was successively assigned to 39th Indian Division at Dehra Dun, 36th British Infantry Division at Poona, 26th Indian Infantry Division at Bangalore, and 25th Indian Infantry Division at Cocanada. Post war, it moved to Malaya and Java.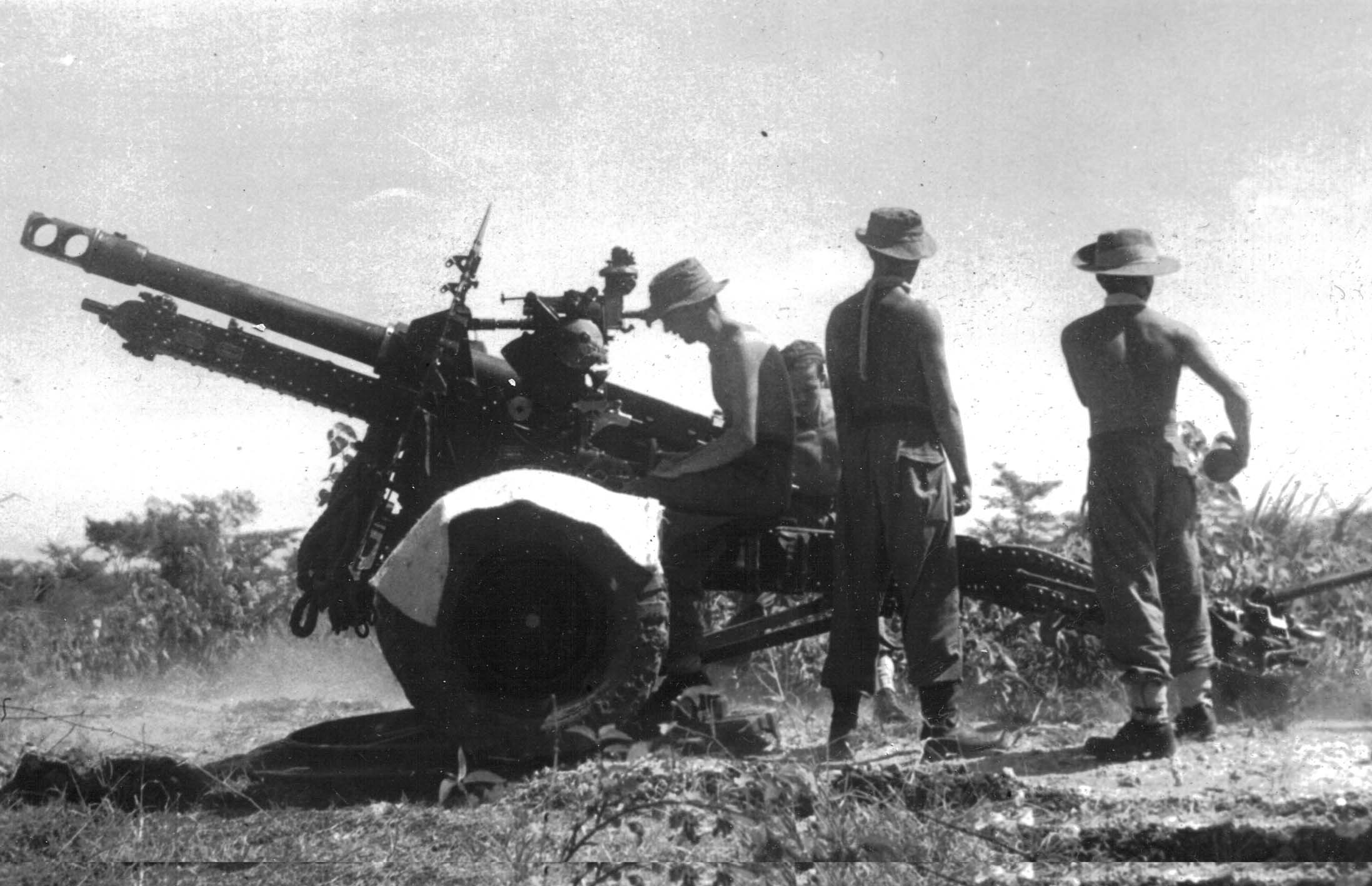 1945 - Berkshire Yeomanry 25 Pounder in action outside Sourabaya , Java, Dutch East Indies ( Indonesia)
After hostilities everywhere else had ceased and the occupying Japanese had surrendered, Indonesian nationalists seized the opportunity to throw off the Dutch colonial yoke and take control of the country. Chaos ensued. The 6th Indian Division was sent from Malaya to restore order. The Berkshire Yeomanry went as one of their gunner regiments. For six months the regiment were engaged in hard fighting in support of the Divisions Indian Army and Gurkha Infantry Regiments against a well-armed enemy. The Regiment was withdrawn in 1946 and sent home for demobilisation.
The regiment was placed in suspended animation in ALFSEA on 1 June 1946.
Post war
The regiment was reformed on 1 January 1947 as 345th (Berkshire Yeomanry) Medium Regiment, RA, with HQ at Newbury and a battery at Windsor. The Windsor battery was detached to form 662nd Medium Regiment, RA which was shortly afterwards redesignated as 346th (Berkshire Yeomanry) Medium Regiment, RA. They were amalgamated on 16 August 1950 as 345th (Berkshire Yeomanry) Medium Regiment, RA. On 31 October 1956, the regiment was reduced to a single battery as R (Berkshire Yeomanry) Battery in 299th (Royal Buckinghamshire Yeomanry, Berkshire Yeomanry, and Queen's Own Oxfordshire Hussars) Field Regiment, RA.
On 1 May 1956, the battery was amalgamated with the Westminster Dragoons to form C (Berkshire Yeomanry) Squadron, Berkshire and Westminster Dragoons, RAC and converted to armoured cars.This was a short lived arrangement: on 1 April 1967 the Berkshire and Westminster Dragoons was reconstituted as two units with the Berkshire elements forming A Company (Berkshire Yeomanry), The Royal Berkshire Territorials at Windsor. At the start of 1969 it once more changed role as 94 (Berkshire Yeomanry) Squadron in 71st Signal Regiment, Royal Signals. The squadron became independent in 1996, joined 31st Signal Regiment in 2003 and transferred to 39th Signal Regiment in 2006.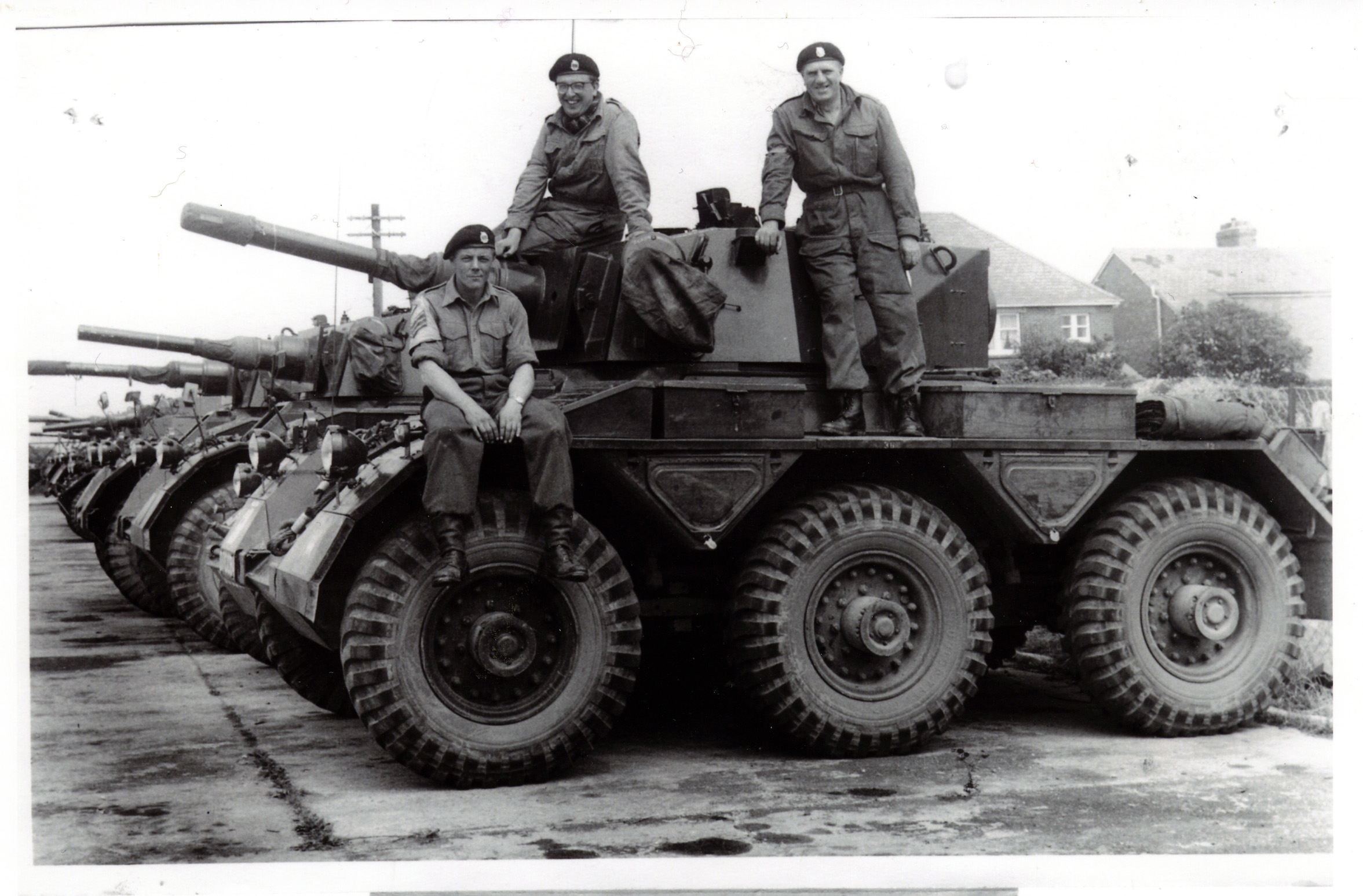 1963 Berkshire and Westminster Dragoons at Annual Camp
A second squadron was formed from C Company, 2nd Battalion, Wessex Regiment in October 1995 as D (Berkshire Yeomanry) Squadron, Royal Yeomanry at Slough. This was disbanded on 1 June 2000.
The role of the squadron
Today the squadron is a Territorial Army squadron of the Royal Corps of Signals, serving within both of the Royal Signals UK Brigades. The squadron supports NATO's Allied Rapid Reaction Corps (ARRC), providing essential Combat Net Radio communications for the ARRC or international coalition force
With the change of role from gunners to that of an armoured car regiment came new skills to be learned. The Regiment was equipped with Saladin Armoured Cars and Ferret Scout Cars and trained all over the UK.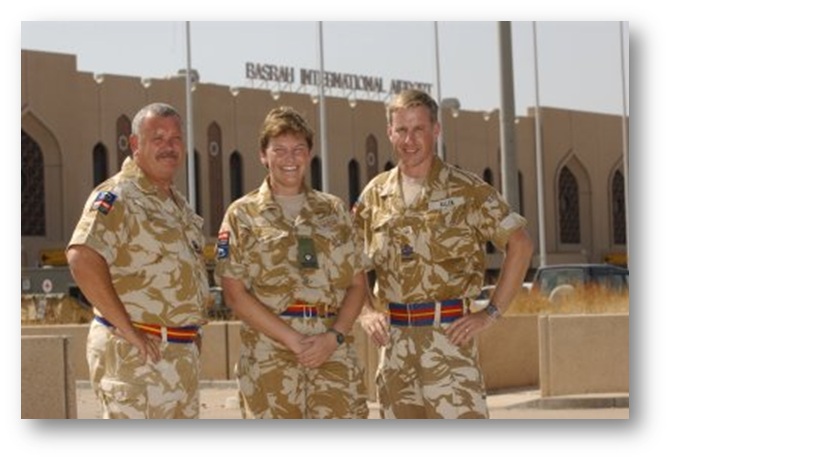 2003 - Basra
During 2003, 28 members of 94(Berkshire Yeomanry) Signal Squadron were mobilised for six month tours in Iraq. In total since 2003 over 75 Berkshire Yeoman have been called up to serve alongside their regular counterparts in Former Yugoslavia, Iraq and Afghanistan.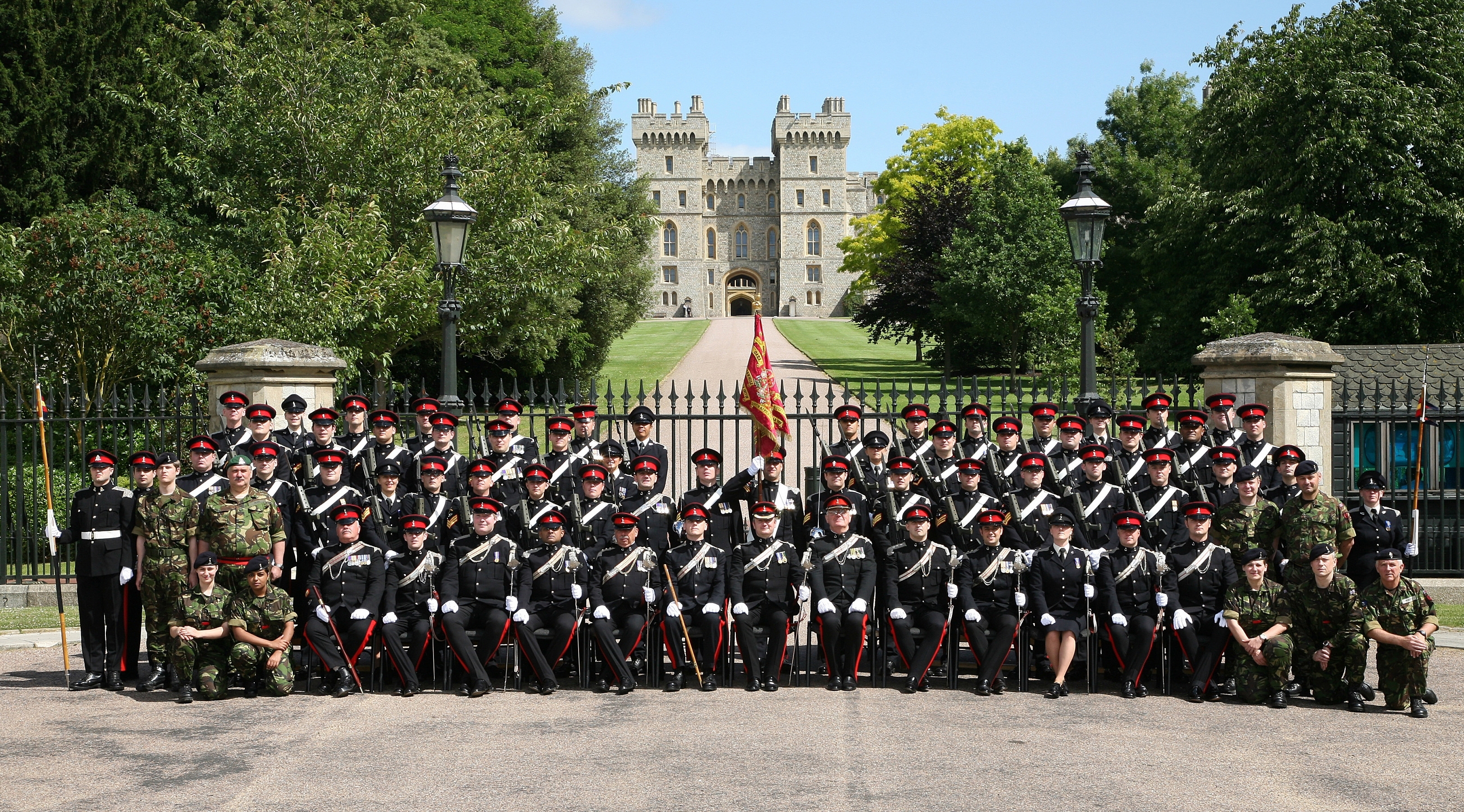 2008 - Freedom Parade
The Berkshire Yeomanry were granted the Freedom of the Royal Borough of Windsor and Maidenhead in 1994 to mark nearly two hundred years association with the Borough. This photograph was taken just before they marched through the town thus "exercising" their Freedom.

Back to top »

2010 - Present ©
Frank Toogood
(Design) and Potts VC Trust (Content)