Quick Links

The Potts Story
The Project
Make a Donation
The Memorial
The Berkshire Yeomanry
The Victoria Cross
The Great War
Reading
Our Supporters and Sponsors
THE MEMORIAL
The Design brief
Our artist - Tom Murphy
The design
The Roll of Honour
...Boer War
...WW1 Yeomanry
...WW1 other
...WW2
Construction
The Unveiling
The Site
Contact us
NEWS
P6020 updated 1/2/2017
.
Our Chosen Artist -
Tom Murphy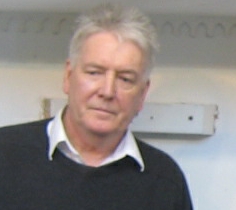 Our selected sculptor is Tom Murphy, who hails from Liverpool.
Tom has produced a diverse portfolio of sculptures, several of which can be seen
on his website
:
When we were considering the 21 expressions of interest from sculptors, members of the Trust were particularly impressed by his sculpture of
Capt Noel Chavasse VC & Bar MC
Arrivals at Liverpool Lime Street Station have the chance to meet
Ken Dodd
and
Bessie Braddock
Tom produced the
Hillsborough Memorial
which was unveilled in 2012
In August 2014 his frieze of
The Liverpool Pals
was unveiled by The Earl of Wessex in Liverpool Lime Street Station.
Tom has engaged with the Trust thought our fundraising efforts. He has delivered lectures to students at Reading College on the business of Art and Sculpture and has helped us at our Charity Balls. We are very appreciative of his efforts, and his patience as we worked to raise the required funds.
A film, produced by Third Lens Films, shows Tom at work on the Potts sculpture in his studio in Liverpool in January 2015 when the sculpture was approximately 95% complete. This can be seen on the
ITV Meridian Website;
In March 2015 the Committee approved the final version of Tom's full size clay model. It incorporates most of the detail requested by the Yeomanry and other military historians who like to make sure that everything down to the buttons on the tunics are authentic.
The chosen foundry, Morris Singer Fine Art Foundry in Lasham, then converted the clay sculpture into a wax version in preparation for casting the sculpture in Bronze.
Casting started in the week commencing 8th June, it was complete by mid September 2015.

Back to top »

2010 - Present ©
Frank Toogood
(Design) and Potts VC Trust (Content)